(with google translator
)
Hola!
En mi colección hay varias docenas de mis videos de ciclismo sobre ascensiones conocidos o conocidos apenas asfaltadas que terminan por encima de 2000 m en Alpes th, Pirineos, Andalucía y Canarias (después de que se encendía todas las subidas asfaltadas superiores a 2000 m de los Alpes, Pirineos y Canara isl.)
http://www.youtube.com/gyorgyigabor
Hace 2 días agregué un video de una subida sobre no había información en internet: esto es, en los Alpes franceses: La Bergerie du Bois Noir (2010 m)
Sección de luz de la ascensión comenzó a Guillestre. Empecé a ciclo de la misma carretera que va al Col d'Izoard, pero después de que el cañón tenía que girar a la derecha a Ceillac y última sección del ascenso era un valle muy tranquilo con un arroyo y con una parte extraña cuando 30 m ca durante mucho tiempo la agua salía de la tierra y cayó al arroyo ....
La carretera asfaltada terminó a 2.010 m. Me encantó esta subida! Vale la pena visitar!
[video=youtube;6IBlAVouf6s]http://www.youtube.com/watch?v=6IBlAVouf6s[/video]
Tener placer con él!
Saludos cordiales, Gábor
/ Comencé una página (
https://www.facebook.com/cycling.high
) donde voy a publicar informaciones, fotos, videos de mis visitas, experiencias (más de 30.000 kms en los Alpes, los Pirineos, Canarias y Andalucía facebook ) ... sobre el ciclismo de alta .. y planificar un artículo o una lista / colección acerca de las escaladas más maravillosas pavimentadas (acabado por encima de 2000 m) de los Alpes, los Pirineos, las islas Canarias y Andalucía /
Pic: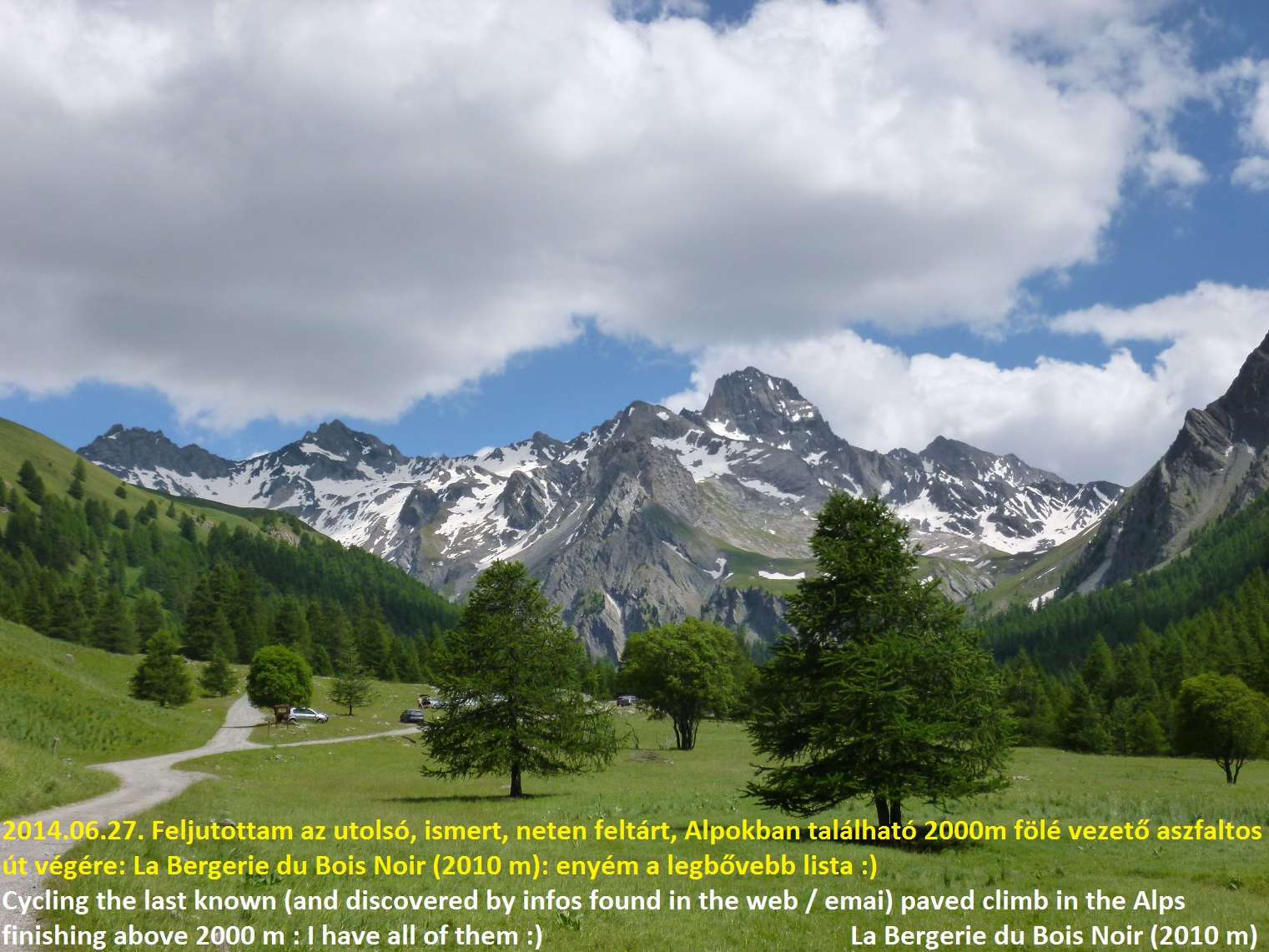 In English: Hello !
In my collection there are several dozens of my cycling videos about well-known or hardly known asphalted climbs ending above 2000 m in th Alps, Pyrenees, Andalucia and Canary islands (after I cycled all of the asphalted climbs above 2000 m of the Alps, Pyrenees and Canara isl.)
http://www.youtube.com/gyorgyigabor
2 days ago I added a video of a climb about there was no info on internet: this is in the French Alps: La Bergerie du Bois Noir (2010 m)
The ascent's light section started at Guillestre. I started to cycle the same road that goes to Col d'Izoard, but after the canyon I had to turn right to Ceillac and the ascent's last section was a very calm valley with a stream and with a strange part when ca 30 m long the water came out of the ground and fell down to the stream ....
The paved road finished at 2010 m. I loved this climb ! It's worth visiting !